Mount Royal College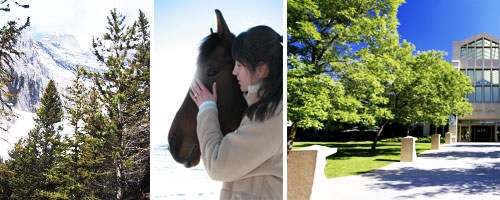 Welcome to Mount Royal, Canada's premier undergraduate college.
Mount Royal College
was founded in 1910 with the goal of helping students achieve their full potential. They've grown considerably since then but remain true to that vision.
Mount Royal College
's reputation for excellence in teaching and learning attracts about 13,000 students like you every year from across the country and around the globe. Our diverse and exciting campus reflects the vast mosaic of cultures, customs, languages and perspectives of the world we live in. The programs at
Mount Royal College
are current, innovative and relevant, developed with input from business and industry leaders to keep them at the leading edge. The classrooms and labs are equipped with the latest teaching and learning technology. The instructors bring academic and professional credentials as well as real-world experience to the classroom.
Mount Royal College
offers more than 60 degree, diploma, university transfer and certificate programs in areas such as arts, business, communications, health and community studies, and science and technology. That means more choices for you. Although the College is big, the small classes will give you a personalized and enhanced learning experience - a real sense of community.
Mount Royal College
has international exchange agreements with leading educational institutions in the United States, Mexico and Asia provide global learning opportunities to broaden your view of the world and yourself. With a wide range of program choices, dedicated instructors and small class sizes,
Mount Royal College
will teach you the knowledge and skills for success whether your goal is to start a career or pursue further academic study. In fact, 94 per cent of the Mount Royal grads find work within six months of graduation and 99 per cent were satisfied with their learning experience.
Click to read more about Mount Royal College
Start a new conversation
Answers
Latest conversations
0
Study Business at Mount Royal College
4/25/2009 douggell
I am a graduate of an Ontario High School and wish to enroll in Business Studies at Royal. Alas, the College requires I have a Biology, Physics, Chemistry which I will have to get with externa...

Mount Royal College

Win a €5000 scholarship

to study in Europe!
Planning on studying a
Master's degree in Europe?

Top 10 Countries to Study Abroad
Where should you study abroad?
Career Test
Find your perfect career!

Like us?
Leave a review on Facebook!