Start date:
February/September
Application deadline:
31st October/31st May
Program Description
Get your PhD in Mathematics and Computer Science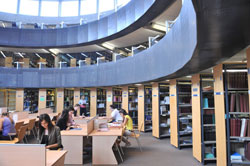 The PhD in Mathematics and Computer Science at the University of Debrecen gives students the opportunity to become experts in the field of computer science and mathematics.
The Doctoral School is headed by Professor Zsolt Páles.
Topics of study in the PhD in Math & CS
Mathematical analysis
Functional equations
Group algebras and its applications
Differential geometry
Diophantine and constructive number theory
Probability theory
Statistics and applied mathematics
Operational research and numerical mathematics
Artificial intelligence
Theoretical computer science
Admission requirements
All applicants to the University of Debrecen meet the following requirements:
Completed application form
High school or college degree and transcript (transcript must be officially translated into English)
Payment of the non-refundable registration fee
Recent medical certificate of general health status
Vaccination report for Hepatitis B, Rose-rash, Mumps, and Measles
Copies of the relevant pages of your passport
Special admission requirements exist for PhD applicants:
Detailed CV
Master Degree
2 recommendation letters from previous professors
Proposal for a research topic
Degree & diploma
Upon completion of the program, you will receive a PhD certification from the University of Debrecen.
Tuition & fees
Tuition for all PhD programs at the University of Debrecen is $6,500 USD per academic year.
Request information - obligation free
University of Debrecen
University of Debrecen in Hungary
The University of Debrecen was established in 1912, but can trace its educational roots in rich traditions, diversity, and excellence back to 1538. The University of Debrecen is a research university with almost 30,000 students and 1,700 instructors - one of...
Read more about University of Debrecen
Location & accommodation
Debrecen, Hungary
Debrecen is the second largest city in Hungary, and is both the regional centre of the Northern Great Plain region and the seat of Hajdú-Bihar county. Situated 220 km east of Budapest, Debrecen has a population of approximately 205,000 people. The city is Hungary's most important educational center with numerous universities, colleges and schools. The focal point of Debrecen is the Great...

Learn more about location and accommodation
Contact information for University of Debrecen