Application deadline: 31st October/31st May
Program description
Get your PhD in Mathematics and Computer Science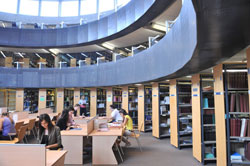 The PhD in Mathematics and Computer Science at the University of Debrecen gives students the opportunity to become experts in the field of computer science and mathematics.
The Doctoral School is headed by Professor Zsolt Páles.
Topics of study in the PhD in Math & CS
Mathematical analysis
Functional equations
Group algebras and its applications
Differential geometry
Diophantine and constructive number theory
Probability theory
Statistics and applied mathematics
Operational research and numerical mathematics
Artificial intelligence
Theoretical computer science
Admission requirements
Language requirements:English language proficiency (TOEFL 547 /IELTS 6.0 /oral examination)

Academic requirements:Relevant Master degree
About school
University of Debrecen in Hungary
The University of Debrecen was established in 1912, but can trace its educational roots in rich traditions, diversity, and excellence back to 1538. The University of Debrecen is a research university with almost 30,000 students and 1,700 instructors - one of...
Read more about this school
Want to know more about Mathematical and Computational Sciences, PhD? Fill out the following form and we'll pass your details on to a representative from the school, who will respond to your enquiry.

Be the first to write a review!


Career Test
Find your perfect career!