Start date:
Contact Webster for more information.
Program description
Get a Bachelor in computer science with Webster University Geneva!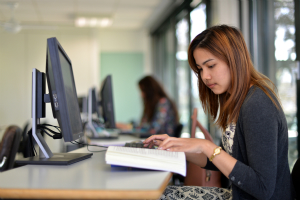 Students in this major are focused on making the computer system perform at its highest level. They will become proficient in programming and in understanding the best uses of the machine.
These individuals will become the IT professionals who keep the infrastructure running. They will be qualified to create new systems, as well as having the skills to maintain and update older systems.
At least 18 of the required 36 computer science credit hours must be taken at Webster University. All upper-level courses must be taken at Webster University.
The following are required courses for the computer science program:
Computer Programming I (3 hours)
Computer Programming II (3 hours)
Math for Computer Science (3 hours)
Operating Systems (3 hours)
Telecommunications (3 hours)
Systems Analysis and Design (3 hours)
Data Structures I (3 hours)
Data Structures II (3 hours)
Admission requirements
Students wishing to enter the BS in computer science should meet the following requirements:
Successful completion of a twelve-year American high school program or its international equivalent as recognized by Webster.
Students whose native or predominant language is not English may need additional English proficiency that requires them to enroll in English as a Second Language (ESL).
About school
Webster University Geneva- American Accredited Education in the Heart of Europe
Established in 1915, Webster is a non-profit, American-accredited university, with campuses in the United States, Europe, Asia and Africa.  The Geneva campus was founded in 1978, and offers graduate and undergraduate degrees. The campus has a truly international feel as...
Read more about this school
Contact info
Webster University Geneva